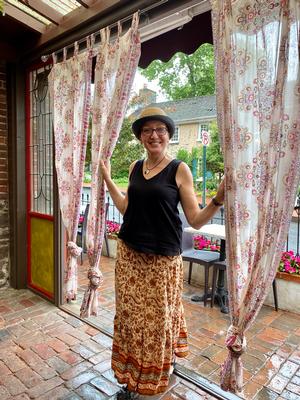 "Our talents are the gift that God gives to us... What we make of our talents is our gift back to God" Leo Buscaglia
Tracy Van Auken has been teaching Musicianship, Recorder, and private and group piano and guitar instrumental lessons at Knowlton Fine Arts for over ten years. She also teaches private lessons at Valley Music Center in Long Valley. She plays flute in the Lafayette Federated Church Worship Team and Orchestra, and is also a member of the Handbell Choir.
Music gives students something they can succeed at through practice, which gives them a sense of purpose and pride. Mrs. Van Auken believes in a flexible manner of instruction, responsive to the unique atmosphere of a given class. Through patient and encouraging teaching and reinforcement, her desire is to help her students identify and reach their musical goals, and to enjoy the process!
If you don't recognize her name, you may remember Tracy Wartman, who was thrilled and blessed to get married (to a musician, of course!) this year. Her son, Bryan, serves in the US Navy, and Tracy and her husband Herb live in Forest Lakes, Byram with her daughters, Amanda and Jackie.
No Current Classes